LOCATION OF YUCCA MOUNTAIN IN NYE COUNTY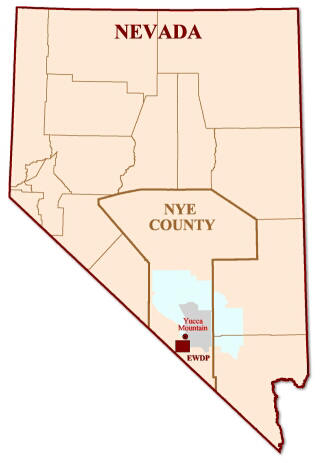 Yucca Mountain is located in Nye County, Nevada on the western edge of the Nevada Test Site.
Scientists have long considered Yucca Mountain a promising site for a repository due to the area's:
Dry climate
Remoteness
Stable geology
Deep water table
Closed water basin
Restricted Access
The Nye County Nuclear Waste Repository Project Office (NWRPO) has been conducting repository oversight studies. The Early Warning Drilling Program (EWDP) was initiated as part of the NWRPO Independent Scientific Investigations Program (ISIP). The purpose of the EWDP is to establish a ground-water monitoring system and to provide geologic and hydrologic information that is needed and has been missing from DOE's program.